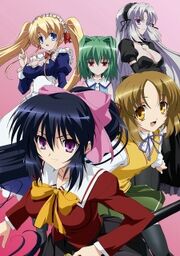 Omamori Himari
is a 2010 TV anime based on the manga of the same name written and illustrated by Milan Matra. Produced by Zexcs, the episodes are directed by Shinji Ushiro, produced by Seiichi Hachiya, series composition by Katsumi Hasegawa, music by Yukari Hashimoto, and character designs by Satoshi Isono. The story centers on Yuto Amakawa, a boy who, on day of his sixteenth birthday, meets Himari, a demon spirit in the form of a beautiful young girl. He learns from her that he is the descendant of one of the twelve Demon Slayer families that had slain ayakashi since feudal times, and that Himari has sworn an oath to protect him from the ayakashi that are out to kill him until his powers awaken. He later meets other girls who start out as enemies, but later become rivals for Yuto's affection as the series progresses. The first nine episodes of the anime follow the first twenty-nine chapters of the manga with major differences from the original's plotline, while the rest follow a unique storyline exclusive to the series.
The anime aired 12 episodes on TV Saitama and Chiba TV between January 6 and March 24, 2010, with subsequent broadcasts on Tokyo MX, TV Aichi, tvk, TVQ, and Sun Television. English-subtitled simulcasts were provided by Crunchyroll following its premiere date. Six DVD compilation volumes were released by Kadokawa Pictures between March 26 and August 28, 2010, with limited edition volumes also released.
The opening theme song for the anime is "Oshichau zo!!" (押しちゃうぞっ!!?) by AyaRuka, consisting of singers Aya Sakamoto and Ruka Kawada. The ending theme song is "BEAM my BEAM" by Himarinko L. Shizukuesu (ひまりんこ・L・しずくえす?), consisting of the main female cast with the seventh episode version sung by Ami Koshimizu, the eighth episode version sung by Iori Nomizu, the ninth episode version sung by Kei Shindo, the tenth episode version sung by Asuka Ogame, and the eleventh episode version sung by Yuki Matsuoka. The ending theme used in episode 12 is "Sakamichi no Hate" (坂道の果て?) by Yuto Amakawa (Daisuke Hirakawa).&nbsp
#
Title
Original air date
01
"Cat and Girl and Allergy"

"Neko to Shōjo to Arerugī" (猫と少女とアレルギー)

January 6, 2010
02
"Sea Cat Scramble"

"Umineko Sukuranburu" (海ねこスクランブル)

January 13, 2010
03
"Maid in Cat"

"Meido in Neko" (メイドinネコ)

January 20, 2010
04
"The White Cat of Noihara"

"Noihara no Shiroi Neko" (野井原の白いネコ)

January 27, 2010
05
"A Troubled Cat and Composure"

"Nayameru Neko to Heijōshin" (悩める猫と平常心)

February 3, 2010
06
"Kiss x Cat x KISS"

"Kisu x Neko x KISS" (キス×ネコ×KISS)

February 10, 2010
07
"The Cat's Feelings and the Magical Girl's Melancholy"

"Neko no Omoi to Mahō Shōjo no Yūutsu" (猫の想いと魔法少女のユウウツ)

February 17, 2010
08
"Curiosity killed the cat"

"Curiosity killed the cat"

February 24, 2010
09
"The Cat in the Approaching Darkness"

"Neko naku Shinobiyoru Yami" (猫鳴く忍び寄る闇)

March 3, 2010
10
"The Cat Demon's Feelings"

"Ayashiki Neko no Omoi" (妖しき猫の思い)

March 10, 2010
11
"Himari, as the Sword that Protects…"

"Himari, Mamorigatana toshite..." (猫 (ひまり), 護り刀として…)

March 17, 2010
12
"Cats, Yuto, and a Maiden's Pure Heart"

"Neko to Yūto to Otome no Junjō" (猫と優人と乙女の純情)

March 24, 2010
Ad blocker interference detected!
Wikia is a free-to-use site that makes money from advertising. We have a modified experience for viewers using ad blockers

Wikia is not accessible if you've made further modifications. Remove the custom ad blocker rule(s) and the page will load as expected.